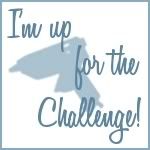 I am always up for a good challnge. So when I found out about the $5 dollar store challange over on Living with Lindsay...I knew I had to play.
I came up with this...
Its an I'm bored pin that fits in my purse. I can't tell you how many times we have been stuck somewhere (a resturant, in traffic, at the DR office, etc) and the three kiddos start whining for something to do.
I started with this...
It had a small pad of paper inside. I also used two magnetic shopping lists. Paint, glue and paper were a "free use" as long as they were something I had on hand.
Inside...
on the lid is a tic tac toe board that I used the magnets for
and it stores
color sheets, dot to dots, mazes, and other paper fun that I down loaded off the internet for free and printed. I saved them in a file on my computer so that as soon as they are used up, I can quickly print some more.
Not bad for only $3!! Plus we have already put it to good use...Missy MayMay was bored the other night at Pack Meeting, so out it came!